Governance

Sheep Producers Australia (SPA) and WoolProducers Australia (WPA) lead the Framework.
Australian Wool Innovation and Meat & Livestock Australia are providing funding, together with strategic and secretariat support.
The Sustainability Steering Group (SSG) designed and developed the framework. The SSG features strong representation across sheep producing regions and the wool and meat value chain. They identified priority issues related to sustainable Australian sheep meat and wool production.
There was considerable input from industry representatives and stakeholders, including customers, government, interest groups, technical experts and investors.
A Consultative Committee, made up of representatives from these groups, will be formed in mid 2021 to provide ongoing input to the Framework. Expert working groups will also be convened when necessary.
The industry will report progress against the Framework annually. Note that separate performance indicators will be included for the sheep meat and wool sectors as relevant and where data exists.
The governance structure is outlined below.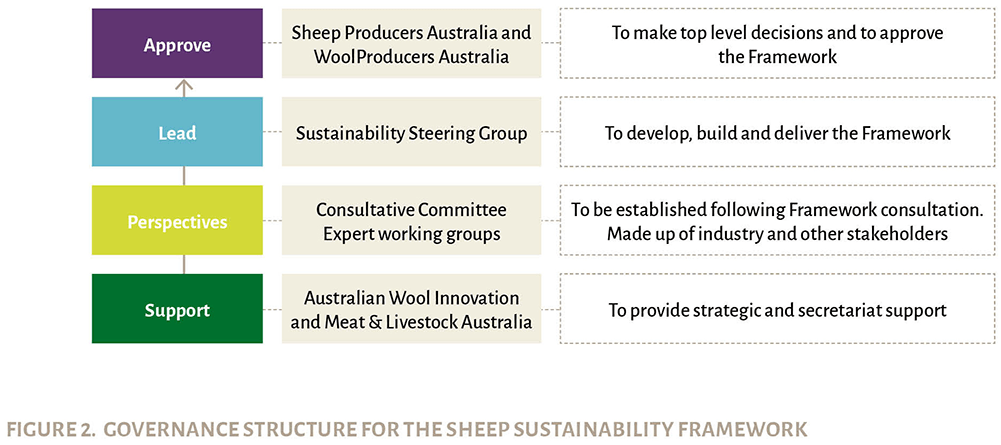 PRINCIPLES
A set of principles will guide development and implementation of the Framework:
Transparency — The industry will provide an open and honest picture of practice and performance (including improvement, no change or decline), using the most appropriate and robust data available.
Accountability — The industry is accountable for its practices and performance as demonstrated via the Framework, and is committed to continuous improvement.
Inclusivity — The constructive views and feedback from industry (including producers, processors and other value chain participants), customers, retailers, special interest groups, government and investors as to how industry can improve practice and performance are valued and considered.
Credibility — Decisions on Framework design will be made with consideration of topics identified as important or material by the industry and its stakeholders. Reporting against Framework priorities and indicators is based on robust evidence.
Practicality — The Framework works within the industry's scope of influence to make changesthat encourage improvement and adoption of best practice. The indicators can or have the potential to be monitored and managed. The Framework should harmonise with other relevant industry strategies to avoid duplication or contradiction.
Relevance — The Framework's priorities and indicators are aligned with topics identified as important or material to the industry and its stakeholders, and are within the industry's scope of influence. The Framework will adapt over time to remain relevant. It will be useful and highlight areas for improvement.